Over ons
In een historisch winkelpand van ruim 150 jaar oud, is Ieds Kinderkleding & Kado's gevestigd. De winkel bevindt zich in de Dorpssstraat nr. 32 te Moerkapelle, tussen de andere winkels die in het dorp zijn

.
U kunt voor of nabij de winkel gratis parkeren. Met de blauwe parkeerschijf.
In een lichte ruimte van 100 m2 zijn kledingkasten van steigerhout gemaakt, naar eigen ontwerp. In elke kast hangt kleding voor jongens en meisjes, van baby t/m maat 176. We verkopen ook prematuurkleding.
Baby en kinderkleding van verschillende merken, en diverse kado's zoals knuffels, slabben, pyama's, badjassen, schoen-laarzen, boeken, speelgoed, speenkoorden, haarspeldjes enz. Wat er in de winkel hangt staat op de webshop, de winkel en webshop is één!
Al bijna 12 jaar uw specialist in baby en kinderkleding en nergens goedkoper.
Online via de webshop Artistique-Ieds
U kunt een keuze maken; Jongens, Meisjes, Unisex, Kledingmaat, Schoenmaat, Merken of Seizoenen.
Bij vakje filter kunt bv de maat selecteren.
Vanaf januari 2020 is Artistique en Ieds Kinderkleding & Kado's samengevoegd, onder de naam Artistique-Ieds
Op de foto Ineke en Ingrid in de winkel Ieds Kinderkleding & Kado's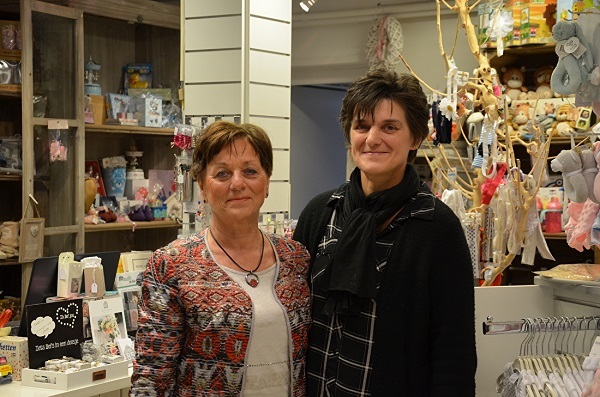 Artistique is het atelier van Ingrid, onder professionele begeleiding geeft Ingrid al 20 jaar teken- en schilderles aan kinderen. (volwassenen, beginners en gevorderden). Het atelier bevindt zich in Moerkapelle.