Teken & Schilderles voor volwassenen en kinderen.
Of u beginner of gevorderd bent, iedereen is welkom. Iedereen werkt in eigen thempo, u krijgt persoonlijk advies en als u geen idee heeft welk materiaal bij u past dan kunt u dat uitproberen, Door bij de mede cursisten te kijken en te overleggen leert u ook van en krijgt u evt nieuwe ideeen om ook eens uit te proberen. Tijdens de lessen is er thee/koffie/limonade en iets lekkers.
De cursussen van februari t/m juni 2023 zijn:
De lessen zijn verdeeld in de hieronder aangegeven dagdelen:
Woensdagavond: 19.30 t/m 22.00 uur vanaf 1 februari starten we weer.
Vrijdagavond : 18.30 t/m 20.00 uur. (kinderen t/m 21 jr) vanaf 3 februari starten we weer.

Heeft u interesse, kom eens een kijkje nemen in Artistique, of vraag naar een proefles !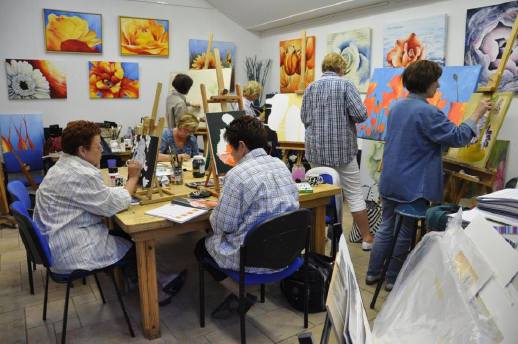 Voor meer informatie of wilt u een inschrijfformulier ontvangen:
Tel; 06-23405252
E-mail; info@artistique-webshop.nl